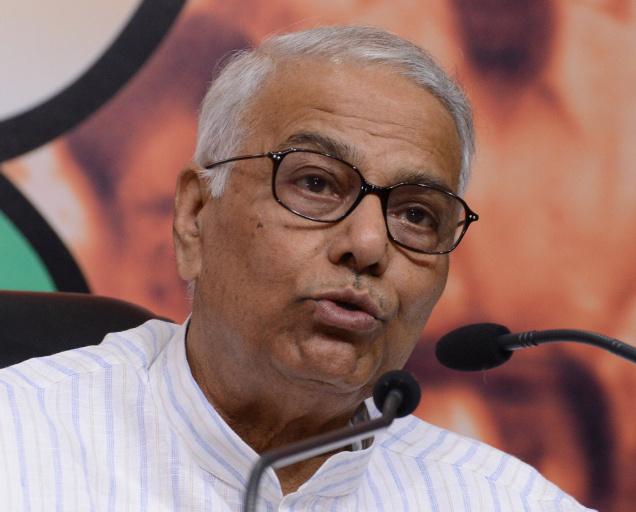 Srinagar, May 31 (KMS): In occupied Kashmir, regretting New Delhi's hard posturing on Kashmir, former Indian minister and senior leader of Bharatiya Janata Party, Yashwant Sinha has said that he was disappointed to hear the party leaders as well as ministers calling Kashmir a "war zone".
Yashwant Sinha, in an interview with a Srinagar-based English daily said, "This has somehow entered into the minds of people who are in the party (BJP) or in the government that we are at war with Kashmir."
Ram Madhav, BJP's General Secretary and the architect of PDP-BJP regime in Kashmir, had last month defended Army Major Leetul Gogoi's action of using Kashmir man as a human shield in Badgam. Madhav's tweet saying "everything is fair in love and war" evoked sharp reaction from political quarters in the Valley. Later, Indian Defence Minister Arun Jaitley too said the army commanders in Kashmir did not need sanction from the Parliament if they want to go after the "adversary" because they are deployed in "war zone".
Of late, the Indian Army Chief General Bipin Rawat described Major Gagoi's action as "innovative", stating that the "dirty war" in Kashmir "requires an innovative approach".
"If Arun Jaitley as defense minister and Ram Madhav as party leader say so, it's certainly disappointing," Sinha, the 84-year-old BJP veteran, said when asked if these remarks had harmed his peacemaking efforts of the past several months. "Not just this," he hastened to add, "The TV channels too are doing incalculable damage to the cause of peace and the cause of Kashmir." He claimed he had no doubt that the media channels caricaturing Kashmiris were "following the brief given to them from the government". "Whatever names the channels might throw up and other stuff they are doing, I am sure the truth will prevail because the truth has the habit of coming out and it will come out soon."
Asked whether his initiative would fetch any tangible results while ministers from Modi government are making such provocative statements, he said, "I am not denying it at all. We did not go to Kashmir with the intention or announcement that we are bound to succeed. Who says we are bound to succeed? We might fail. We are trying to reason with people in the governments in Srinagar and Delhi so that they follow a different path. But if they follow the path they have chosen, then good luck to them, what can one do."
Sinha, however, anticipated a change in Delhi's belligerent approach towards Kashmir and Kashmiris. "Today, we are knocking our heads to the wall. But I am absolutely sure that the government of India will soon adopt the approach we are advocating," he said.
Yashwant Sinha, an old hand in foreign policy circuit, was foreign minister during Vajpayee government. He, along with other civil society members from Delhi, visited Kashmir in 2016 amid widespread protests following the killing of popular Hizbul Mujahideen Commander, Burhan Wani.
Leave a Reply