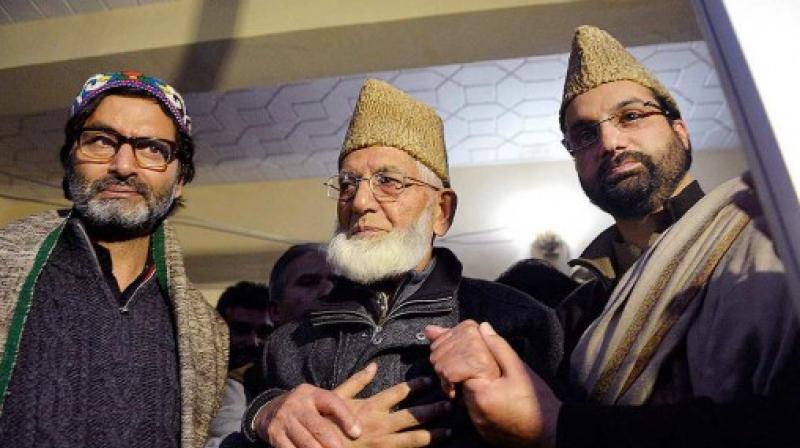 Srinagar, June 30 (KMS): In occupied Kashmir, the joint resistance leadership comprising Syed Ali Gilani, Mirwaiz Umar Farooq and Muhammad Yasin Malik has strongly condemned the fresh wave of illegal and arbitrary crackdowns on Hurriyet leaders, activists and youth by India troops and police across the Kashmir Valley.
The leaders in a joint statement issued in Srinagar said, "While the leadership continues to be under house arrest, dozens of leaders and activists have been detained in jails or caged in their homes. Raids are conducted on their homes day and night to harass them and their families."
The leaders expressed deep regret and dismay that the US government chose to maintain complete silence over the brutal oppression that the people of occupied Kashmir are subjected to by the Indian armed forces. "An alternative course would have seen the US putting pressure upon the Indian Prime Minister Narendra Modi during his visit to that country to provide relief to the oppressed people of Kashmir and to immediately initiate serious steps towards the resolution of the Kashmir dispute," they said.
The resistance leaders said that the US was well aware that for the past 70 years the people of Jammu and Kashmir were engaged in a long and peaceful struggle for achieving their inalienable right to self-determination, guaranteed by the UN, but ruthlessly resisted and suppressed by the Indian state through the use of extreme force.
The leaders condemned the US government's action of declaring the veteran Kashmiri freedom-fighter and Chief of Hizbul Mujahideen, Syed Salahuddin, as a terrorist.
Meanwhile, United Jihad Council in a statement also denounced the US administration's action of branding Syed Salahuddin as a terrorist. It said that such actions were tantamount to rubbing salt on the wounds of Kashmiris. The statement also expressed concern over the arrest of pro-freedom leaders and said that such tactics could not subdue the resolve of the Kashmiri people to carry forward their ongoing freedom movement.