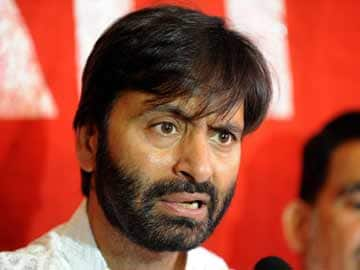 Srinagar, July 28 (KMS): In occupied Kashmir, the illegally detained Jammu and Kashmir Liberation Front (JKLF) Chairman, Muhammad Yasin Malik, has strongly condemned the arrest of a youth, Atif Hassan, who was shifted to by the puppet authorities to Kathua jail after slapping draconian Public Safety Act (PSA) on him.
Yasin Malik in a statement issued in Srinagar also strongly condemned implicating of Muhammad Ishaq Paul of Shupian in a false case.
He said putting innocent youth behind bars and inflicting harm to the people who are striving for resolution of the Kashmir dispute peacefully is continuing unabated and by unleashing these kinds of oppressive policies, the so-called rulers are actually setting whole Kashmir Valley on fire.
Terming the arrest of Atif Hassan of Islamabad, torturing him in police station, and then slapping PSA on him as the worst kind of police terrorism, he said, the youth is a peaceful freedom activist.
The JKLF Chairman said that criminal mindset of police and their political masters could be gauged by their ugly act done against one Muhammad Ishaaq Paul who was recently declared innocent by a court that ordered his release. After the court order, instead of releasing Ishaaq Paul, who is in jail from last 13 years, the police re-arrested him and implicated him in a murder that occurred some six months back when Ishaaq was in Srinagar central jail.
Yasin Malik said, all these atrocities and oppressive measures speak volumes about the tyrannical and oppressive attitude and approach of the puppet rulers and the police.
Leave a Reply