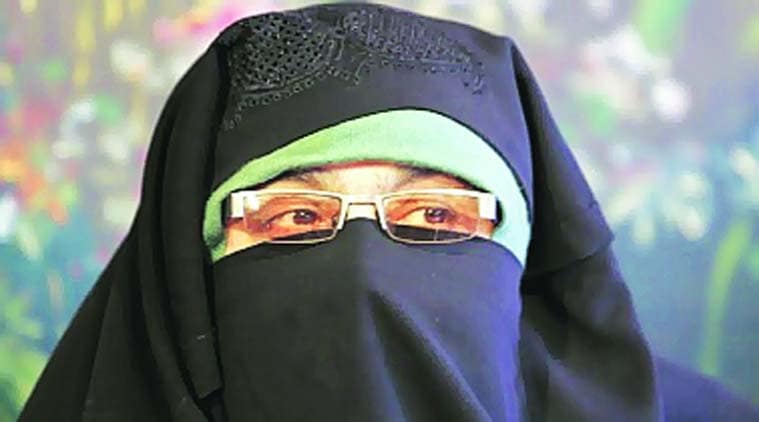 Srinagar, November 22 (KMS): In occupied Kashmir, a Srinagar court has directed the superintendent of Central Jail Srinagar to provide necessary medical facilities to the illegally detained ailing Dukhtaran-e-Millat Chairperson (DeM), Aasiya Andrabi.
The court of 1st Additional Sessions Judge, Naseer Ahmed Dar, also directed the jail authorities to seek opinion of doctors for providing better treatment to Aasiya Andrabi.
The court said that it was the responsibility of the authorities to provide the best possible medical treatment to an ailing prisoner, with opinion sought from expert doctors. The court had already directed the Aasiya Andrabi's counsel to furnish bail bonds in the present case registered against her. Advocates Muhammad Abdullah Pandit and Mir Urfi appeared on behalf of the DeM Chairperson and submitted before the court that the medical condition of the petitioner was grave and as such the puppet authorities should set her free.
A medical report submitted in the court by the medical officer of Central Jail Srinagar stated that the DeM Chairperson was suffering from Bronchial Asthma, Hypertension, Allergic Dermatitis and chronic lower back ache. It stated that her hypertension was not coming under control despite the medication having been changed thrice.
The report said that Aasiya Andrabi had suffered an asthma attack in jail for which she was referred to Soura Institute of Medical Sciences where she was diagnosed with Angioedema, Urticaria and Bronchospasm. "These are life-threatening conditions and these cannot be managed in the jail hospital," it said.
The report added that environmental factors like dust and infection from other female jail inmates could increase the risk of Bronchospasm and Angioedema, which could be fatal for the prisoner. "Aasiya Andrabi is also suffering from osteoporosis and diffuse annular disc bulge, which is "worsening day-by-day… (and) she is unable to perform routine work without assistance…. It is therefore necessary to consider medical opinion," the report said.
Aasiya Andrabi and her associate, Fehmeeda Sofi, were booked under draconian law, Public Safety Act (PSA), by the puppet authorities in May this year and they were lodged at Amphalla Jail in Jammu. The High Court of the occupied territory quashed the PSA order against them on August 31, after which they were shifted from Amphalla Jail to Central Jail Srinagar.
Leave a Reply