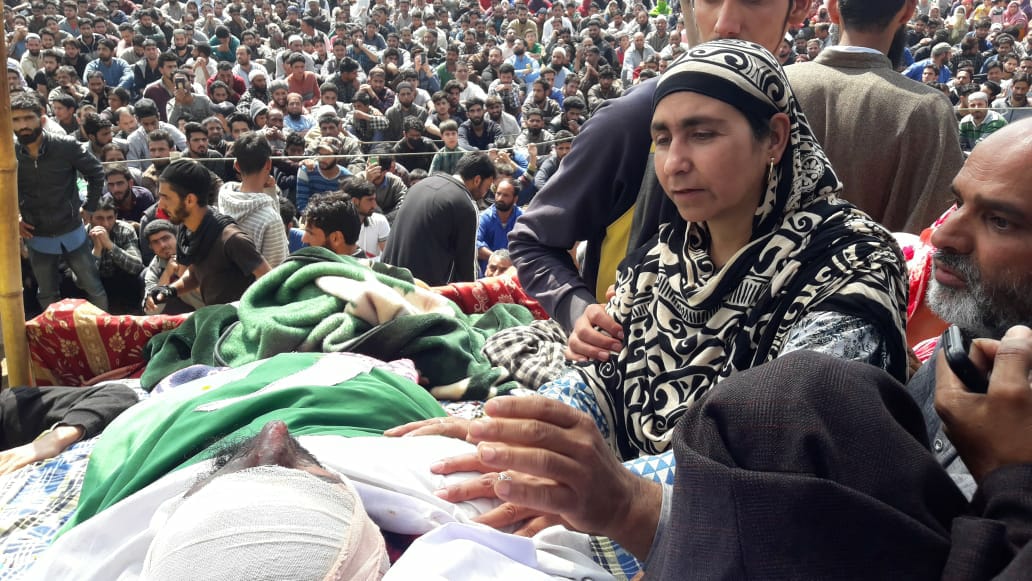 Srinagar, June 06 (KMS): In occupied Kashmir, thousands of people chanting anti-India and pro-freedom slogans attended the funeral of two youth, Mudassir Ahmed and Sheraz Ahmed, in Kulgam and Pulwama areas, today.
Mudassir Ahmed and Sheraz Ahmed, residents of Parigam in Kulgam and Lajoora in Pulwama, were killed by the Indian troops in a fake encounter in Tangdhar area of Kupwara on May 26. They were buried by the Indian police with the help of some local people at Badwan in Tangdhar area of Kupwara district.
The bodies of Mudassir and Sheraz were exhumed after strong protests by the locals and were handed over to their families, yesterday.
Soon after their bodies reached Parigam and Lajoora, thousands of people from the adjacent areas reached there and participated in the funeral prayers.
Sheraz was laid to rest in Lajoora after multiple funeral prayers. The All Parties Hurriyat Conference Chairman, Syed Ali Gilani, telephonically addressed the mourners, on the occasion. While paying rich tributes to the martyrs, he said, "Youth of Kashmir are sacrificing their lives for a noble cause and our fight will continue till we achieve our goal."
Hurriyat leaders including Yasmeen Raja and delegations of Jammu and Kashmir Peoples Freedom League and other pro-freedom parties also participated in the funeral processions of the martyred youth.
The Indian Army after killing the youth had dubbed them as foreigners. However, the families of Mudassir and Sheraz contradicted the army's claim after the pictures of the youth appeared in newspapers. They had demanded exhumation of the bodies for proper burial.
Meanwhile, shutdown is being observed in Kulgam and Pulwama districts to mourn the killings. The authorities have snapped internet services in the two districts.
Leave a Reply