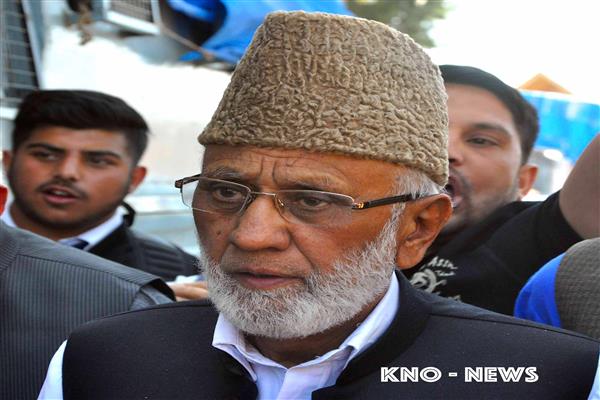 Srinagar, July 18 (KMS): In occupied Kashmir, the Chairman of Tehreek-e-Hurriyat Jammu and Kashmir, Muhammad Ashraf Sehrai, has expressed concern over the ill and inhuman treatment meted out to Kashmiri leaders and activists in different Indian jails.
Muhammad Ashraf Sehrai in a statement issued in Srinagar paid rich tributes to the resolve of resistance leaders and activists including Shabbir Ahmed Shah, Altaf Ahmed Shah, Ayaz Akbar, Peer Saifullah, Merajuddin Kalwal, Nayeem Ahmed Khan, Farooq Ahmed Dar, Shahid-ul-Islam, Muhammad Aslam Wani, Zahoor Ahmed Watali, Dr Ghulam Muhammad Butt, Muzaffar Ahmed Dar, Mushtaq Ahmad Lone, Muhammad Shafi Shah and Talib Husain.
He strongly condemned the shifting of Dukhtaran-e-Millat Chairperson, Aasiya Andrabi, and her associates, Fahmeeda Sofi and Nahida Nasreen, to Delhi's notorious Tihar jail and termed it as the worst form of vengeance and political vendetta against the resistance leadership.
Muhammad Ashraf Sehrai said, Aasiya Andrabi is suffering from multiple ailments and the Indian authorities undemocratically shifted her to Tihar Jail on fake charges.
Meanwhile, Jammu and Kashmir Muslim League in a statement in Srinagar expressed its deep concern over the failing health of its illegally detained district president Bandipora, Assadullah Parray, in Kot Bhalwal jail of Jammu and demanded his immediate release.
Leave a Reply