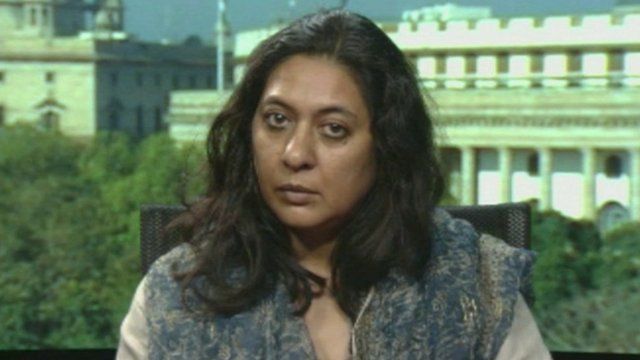 Karachi, August 28 (KMS): The South Asia Director at Human Rights Watch (HRW), Meenakshi Ganguly, has urged the Indian leaders to admit that human rights violations are taking place in occupied Kashmir and they must work with Pakistan to safeguard the interests of the Kashmiris.
Meenakshi Ganguly speaking in a programme of a Karachi-based private TV channel said that it was high time for the leaders in both India and Pakistan to realise that the Kashmiris were living in a conflict zone and suffering human rights violations.
She deplored that human rights issues are often ignored in Pakistan-India peace process and not given the importance they deserve. "Whenever we start talking about Kashmiris' rights the topic turns to militancy which leads to demands from one side and demands from the other and the whataboutery of the two parties as they try and justify their actions because of the actions of the other, which does not help," she said.
She said that the Indian government had rejected reports by the Amnesty International and OHCHR (Office of the UN High Commissioner for Human Rights) recently issued on atrocities being committed by the Indian forces in occupied Kashmir. "Once again we find out that Kashmiris are the ones having to pay the price for the political battle that goes between India and Pakistan," she said and stressed that the focus should be diverted to protect the rights of the Kashmiri people.
On the misuse of powers given to the Indian troops under draconian law, Armed Forces Special Powers Act (AFSPA), the HRW official said that the international organizations like the UN as well as the groups and commissions, formed under the Indian government and mandated to try and find solution to the Kashmir dispute, had also appealed to the government to repeal the Act. "There is no reason for this law to exist and there is evidence that it led to violations of human rights," she added.
Meenakshi Ganguly pointed out that any kind of dissent and criticism is treated as anti-India and there are crackdowns on people who speak out in occupied Kashmir. "This is really really unfortunate because unless the government is responding to these calls for justice, there will continue to be a cycle of violence against innocent women and children protesting on the streets of Kashmir," she said.
The HRW official expressed concern over the increasing communal violence by pro-BJP vigilantes against religious minorities in India. When asked if Kashmir was also a victim to such more violence promoting Hindu supremacy and ultra-nationalism recently, she said, "For a very long time Kashmir was not looked through the religious prism but unfortunately more recently the fact that Kashmiris are Muslims is used to criticise them and to deny them their rights."
Meenakshi Ganguly stressed the need to protect the rights of Kashmiris at all costs like everyone else's in the world, saying that the human rights are universal.
Leave a Reply