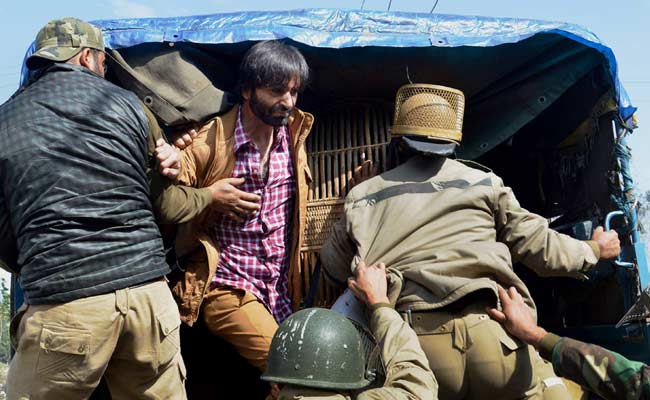 Srinagar, October 02 (KMS): In occupied Kashmir, Indian police arrested Jammu and Kashmir Liberation Front Chairman, Muhammad Yasin Malik from his office in Aabi Guzar area of Srinagar, today.
A JKLF spokesman in a statement issued in Srinagar said that a police party raided the party office and arrested Muhammad Yasin Malik.
The arrest came ahead of sham local bodies' elections in the occupied territory. The Joint Resistance Leadership comprising Syed Ali Gilani, Mirwaiz Umar Farooq and Muhammad Yasin Malik had called for complete boycott of the elections.
Meanwhile, the occupation authorities invoked draconian law, Public Safety Act, against a shopkeeper, Hilal Ahmed Dhobi, and another youth Arizoo Bashir Najar, residents of Tral town of Pulwama district. They were detained during a nocturnal raid at their houses on Sunday. They have been lodged in a jail in Jammu.
On the other hand, Tehreek-e-Hurriyat Jammu and Kashmir in a statement in Srinagar denounced the continued detention of party activists, Aashiq Hussain Narchoor, Sartaj Ahmed, Bashir Ahmed Chhon and Shabbir Ahmed Mir in police stations and interrogation centres. The statement denounced the authorities for creating obstacles in the release of the activists.
Leave a Reply