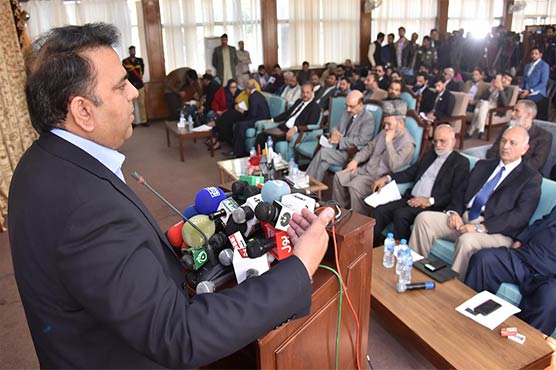 Islamabad, November 30 (KMS): Pakistan Information Minister Fawad Chaudhry advised the government of India, today, to accept that the Kashmir issue has no military solution.
Fawad Chaudhry was addressing a seminar held by All Parties Hurriyat Conference Azad Jammu and Kashmir (APHC-AJK) chapter in Islamabad.
He said freedom and Kashmiris' love for Pakistan is a sentiment felt in the heart, a narrative of the heart.
The information minister said that India was trying to defame Pakistan because it had failed to suppress freedom movement in occupied Kashmir. He urged Indian authorities to realise that armies could not conquer the narrative of the heart.
Chaudhry said that Pakistan's stance on Kashmir was not inspired by the beauty of Kashmir.
"We don't view the Kashmir issue from a territorial point of view. We look at it from a humanitarian angle," he said, adding that the pain of Kashmiris was felt by Pakistan.
The information minister further said that the pro-Pakistan sentiment in Kashmir was very high and political parties which contested elections in the territory realised this.
"Kashmiri leader Umar Farooq told me that political parties contesting elections in Kashmir knew that if they adopted an anti-Pakistan narrative, their voter base would alienate them," Fawad Chaudhry said.
Quoting author Arundhati Roy, he said, "The time when India controlled Kashmir is long gone; now the narrative of Kashmir dominates India."
Emphasizing the importance of peace in the region, he said that friendly relations between India and Pakistan would lead to trade and an improved economy, which would benefit both countries.
"As soon as Indian authorities and intellectuals realise that they will have to adopt a realistic approach towards the Kashmir issue and that it needs to be solved, we can move forward," he said.
Leave a Reply