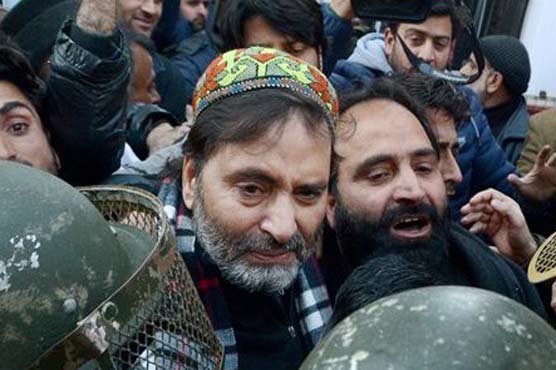 Srinagar, March 07 (KMS): In occupied Kashmir, the authorities booked the Jammu and Kashmir Liberation Front (JKLF) Chairman, Muhammad Yasin Malik, and chief spokesman of Jamaat-e-Islami of the territory, Advocate Zahid Ali, under black law, Public Safety Act (PSA), today.
A JKLF spokesman in a statement issued in Srinagar said that Muhammad Yasin Malik, who was arrested on February 22, 2019, was booked under the draconian law, Public Safety Act, and shifted from Kothi Bagh police station in Srinagar to Kot Bhalwal jail in Jammu.
He strongly condemned this arbitrary arrest and invoking of black law PSA against a political leader. He termed it as a glaring display of frustration of Indian rulers and their abettors in occupied Kashmir.
Jamaat-e-Islami chief spokesperson, Advocate Zahid Ali, who was also arrested on February 22, was slapped with the PSA and shifted from Police Station Ganderbal to Central Jail, Srinagar. The Jamaat in a statement while strongly denouncing the slapping of PSA on Advocate Zahid Ali said that the Indian authorities were muzzling peaceful voices by suppressive tactics.
Another JI leader, Mufti Mujahid Shabir Falahi, was also booked under PSA and was shifted to Kot Bhalwal Jammu," it added. The authorities sealed Jamaat-e-Islami Buttamaloo office.
On the other hand, India's National Investigation Agency (NIA) arrested a Kashmiri youth, Amir Nazir Mir, in Awantipora area of Pulwama in a fake case registered against him in connection with a grenade attack on a police station in Maksudan area of Indian Punjab in 2018 in India.
Leave a Reply