IOK a prison under military control: Indian activists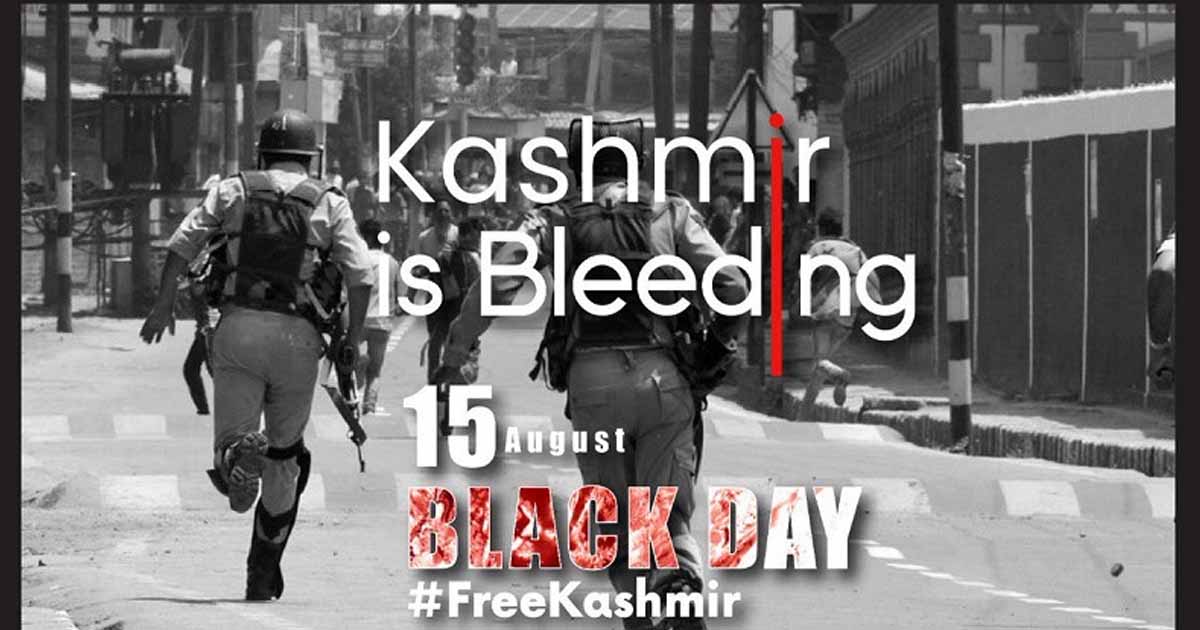 Srinagar, August 15 (KMS): Kashmiris, all across the world, observed the Indian Independence Day, today, as Black Day to convey the message to the international community that they reject India's illegal occupation of their motherland.
The Black Day is also being observed to register strong protest against the Indian unilateral action to change the disputed status of occupied Kashmir.
On the other hand, the authorities continued to impose strict curfew and other restrictions across the Kashmir valley on the 11th straight day, today, to prevent people from holding anti-India demonstrations. Millions of Kashmiris have been deprived of their liberties and fundamental rights during all these days. They have been stripped off of all their rights. Internet broadband, telephones and TV channels continuously remain snapped. The occupied territory remains cut off from the rest of the world. People are deprived of essential commodities like baby food and life-saving medicines. No access is given to patients to hospital and the territory is giving the picture of a humanitarian crisis.
Hundreds of Kashmiri political leaders and activists have been put in jails or detained at undisclosed places. Many have been flown out of the occupied territory and kept in various Indian jails in Agra, Bareilly or Lucknow and their family members do not know their whereabouts.
The summer capital of the territory Srinagar has been turned into a vast maze of razor wire coils and steel barricades while drones and helicopters hover overhead. The mediamen who visited the territory said that Indian police and troops had arrested dozens of youth from Pulwama and Shopian districts since India's decision of abrogating the Article 370. They refuted Indian government's claims that it had eased restrictions in occupied Kashmir on the occasion of Eid-al-Azha. They said that on the first day of Eid, major mosques were kept closed, disallowing many people to offer congregational Eid prayers.
Four prominent Indian civil society activists, who visited the Kashmir valley for five days between 9th to 13th August, on their return to New Delhi while addressing a press conference said that the Indian authorities had converted the Kashmir valley into a big prison under military control. They said that the Indian media's claims of occupied Kashmir being peaceful were grossly misleading. The activists included economist Jean Drèze, Communist Party of India (Marxist-Leninist) Kavita Krishnan, All India Democratic Women's Association's Maimoona Mollah and Vimal Bhai of the National Alliance of People's Movements. They were not allowed to show video clips they had recorded during the visit, which they released later on social media. They told media men that the authorities were claiming that all was well in Jammu and Kashmir whereas all was hell there.
In Islamabad, the All Parties Hurriyat Conference Azad Jammu and Kashmir chapter organized a protest demonstration outside the Indian High Commission to mark India's Independence Day, today, as Black Day. Addressing on the occasion, the Hurriyat AJK leaders expressed concern over the increasing Indian atrocities, illegal detentions and imposition of continued curfew in occupied Kashmir. They said that New Delhi must realize the fact that it would not be able to subdue the Kashmiris' freedom struggle through the use of brute force.
Leave a Reply