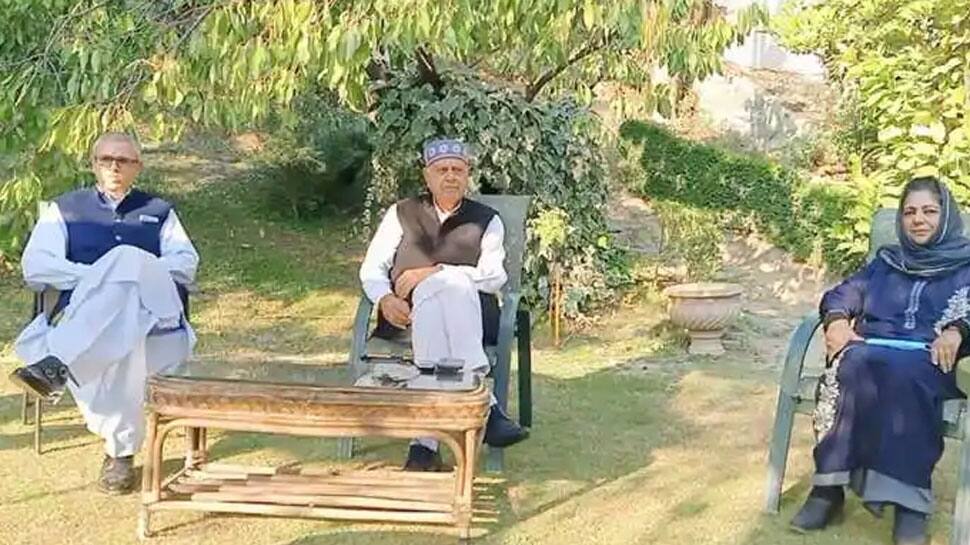 Srinagar, October 24 (KMS): In Indian illegally occupied Jammu and Kashmir, the signatories of Peoples Alliance for Gupkar Declaration on Saturday formally structured the Alliance and unanimously elected Dr Farooq Abdullah its President.
The signatories of People's Alliance for Gupkar Declaration met at PDP chief, Mehbooba Mufti's residence at Fairview Gupkar in Srinagar wherein political situation across the territory was discussed and put forth their suggestions for consolidating the movement taken up for restoration of Article 370.
During the meeting, also Mehbooba Mufti was elected as vice-president while People's Conference Chairman Sajad Gani Lone as its spokesman. CPI-M President, M Y Tarigami, was appointed as convener while NC leader, Hassnain Masoodi, as coordinator.
Addressing the media, Abdullah said, it not an anti-IndiaJamat and their aim is to ensure that the rights of people of Jammu and Kashmir and Ladakh are restored. He further said that attempts of dividing them in the name of religion will fail and said that "It's not a religious fight".
Talking to the media, Sajad Lone announced that flag of erstwhile IIOJK will be the symbol of the alliance and on November 17, there will be a convention in Srinagar followed by another meeting in Jammu within two weeks.
Leave a Reply