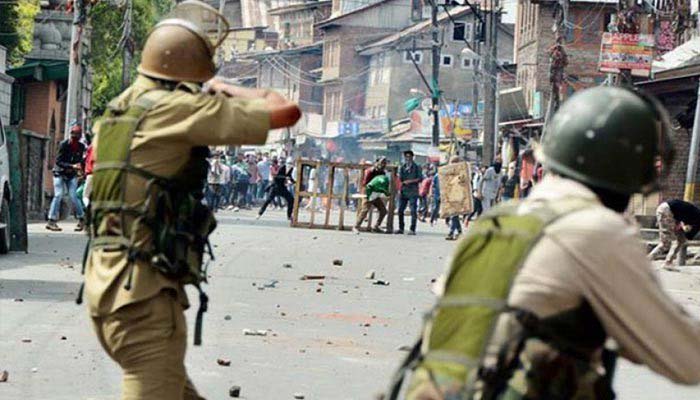 Indian troops continue CASOs amid lockdown
Srinagar, April 02 (KMS): In occupied Kashmir, Hurriyat leaders and organisations including All Parties Hurriyat Conference Chairman Syed Ali Gilani and Hurriyat forum led by Mirwaiz Umar Farooq have strongly condemned the new domicile law introduced by India in Kashmir to change the demographic composition of the territory.
The new law allows Indian citizens to permanently settle in occupied Kashmir after fulfilling nominal requirements. Syed Ali Gilani in a statement issued in Srinagar, today, said that at a time when the spread of coronavirus has reached catastrophic proportions and governments across the world are focusing all their attention to save the lives of their citizens, India is unabashedly using the situation to fulfill its political agenda in Kashmir. The Hurriyat forum led by Mirwaiz Umar Farooq said that the process to change the demographic character of occupied Kashmir started in August 2019 was being systematically carried forward and the recent domicile order was part of that plan.
Other leaders and organizations including Bilal Ahmed Sidiqui, Ghulam Muhammad Khan Sopori, Yasmeen Raja, Abdul Hameed Butt, Khawaja Firdous, Javed Mir, Tehreek-e-Wahdat-e-Islami, Pairwan-e-Wilayet, Ummat-e-Islami,Islami Tanzeem-e-Azadi, various Sikh bodies, Syed Abdullah Gilani, Syed Faiz Naqshbandi, Muhammad Farooq Rehmani, Abdul Majeed Mir, Altaf Ahmed Butt, Shamim Shawl and Tehreek-e-Istaqlal in their statements said the move is aimed at changing the demography of the territory. They termed the new domicile law as a bigger adversity for the Kashmiris than coronavirus. However, the leaders maintained that the people of Kashmir would strongly resist the move. »
Read More...
|
Comment